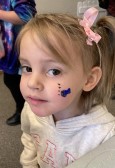 I like to hear from WE KIDS-kids. Some kids and their families send pictures, like of this young lady on the left. Some send drawings. All of them receive something back from me in the mail (if they remember to send their mailing address) or e-mail.
Here's part of a mailed note from a little listener: "Hi Mr. Nick. My name is Colin. I am a Christchin. Are you? Thank you for the coloring page. I have a guinea pig named Sophei. She is a girl. She is a bayby. She is there mons old. Do you have a guinea pig?"
What do you have to say for yourself, youngster? "Hi, Mr. Nick!" is a good start for an e-mailed message to me. Would you like to have me send you some of our We Kids stickers and a copy of our We Kids Kronicle through the mail? Just ask.
If you're practicing your penmanship, my mailing address is:
Mr. Nick
P.O. Box 44
Red Bluff, CA 96080
However you reach me, I'll be glad to hear from you.