with some goodies not heard on the radio
May 15 weekend
Listen with this family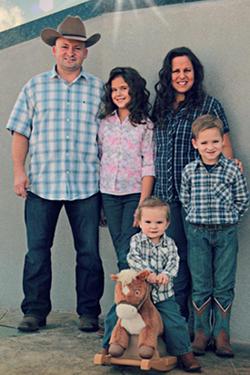 David, with a slingshot and the help of God, brings down an enemy giant. God continues to bless David. King Saul becomes jealous and tries to kill David. But King Saul's son, Jonathan, is David's friend. What happens? Learn more by listening to the next WE KIDS. It's Christ-centered radio that's good for growing kids. WE KIDS!
Psalm 56:3-4 is

this week's Bible verse to remember:



When I am afraid
I will trust in You.
In God, whose Word I praise
In God I trust.
From fear to trust to praise for God. Only He can help us with this because He loves us! Listen for more during the
next
edition of WE KIDS. Here's
more
talk about it.
E-couragement from a WE KIDS grandma in tune with KFSI-FM in Minnesota: "Dear Mr. Nick, thank you for your ministry... Your program for children to learn and live the Word of our Lord, touches my heart... Hearing your program brings calmness and joy to my spirit. When grandkids are with me, they listen too. May the Lord continue to bless you! As scripture tells us, we must continue to pass the Way, Truth and Life of scripture to the next generations! In Jesus Name, Kathy" [Yes, Kathy, yes! Thanks for writing.]

At home in Red Bluff, I'm still glowing because of our virtual Walk for Life with grands <<< Mercy and Eden a few days back. These two little ladies are growing and learning fast. And yes, Mercy is still on the mend from her knee surgery—but she was "walking" with us to support this pregnancy resource clinic. Thank You again, Lord God, for these two gifts from You.

As usual, the next WE KIDS is ready and waiting. Ears here, please!

Mr. Nick
WE KIDS Radio

PS—Does the next WE KIDS exit-machine jump, bump, and sort of fly? What do you think it could be?
Like to receive WE KIDS Workings regularly e-mailed to you? Sign up!