with some goodies not heard on the radio
April 17 weekend!
Listen with this family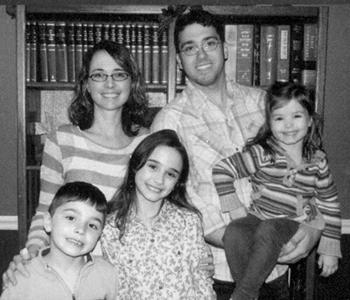 Have you wondered what the voice of God sounds like? The boy Samuel heard it three times and didn't know it was God's voice. But that changed. What happened? Find out more about God calling Samuel—and what Samuel answered—by listening to the next WE KIDS. Put an ear to the air for this kid-friendly and God-honoring little program. WE KIDS!
I Samuel 3:10 is

this week's Bible verse to remember:



Then the Lord came
and stood and called
as at other times,
"Samuel, Samuel!"
And Samuel said,
"Speak, for Thy
servant is listening."
Most people like to
ask
God for things or
tell
God what's best. But few just
listen
to Him. Samuel listened. How? Why When? Find out during the
next
edition of WE KIDS. Here's this week's
promo
.
E-couragement from a WE KIDS family listening online in Montana: "Hi Mr. Nick, we are so
grateful for your radio show. We enjoy your exit so much...many giggles. Another favorite is hearing all the names...Thank you so much for bringing joy to our home. We are Evalynn (6), Matthew (4), and Boone (2). Thank you again. Wilson + Anna" [You're all most welcome!]
At home in Red Bluff the little crepe myrtle tree in the center of the front yard was nearly dead. Last fall the neighborhood deer herd had munched the poor thing down to its bark. But, new life! (God is really good at this.) This "dead" stick is sprouting new leaves this week and showing promise of new life. And the new deer-squirter is shooing those tree-munchers away whenever they get too close. We might actually be blessed with flowers this summer. Thank You again, Lord.
The next WE KIDS is saying "Thank You again, Lord," too. Hear it for yourself, Kiddo!

Mr. Nick
WE KIDS Radio

PS—Word is that the next WE KIDS is noisy and throws green stuff. What do you think it could be?
Like to receive WE KIDS Workings regularly e-mailed to you? Sign up!