with some goodies not heard on the radio
February 4 weekend
Listen with this family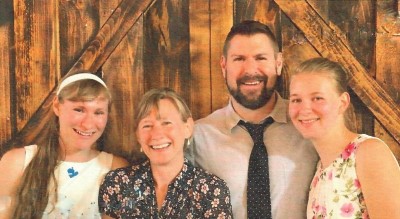 The Bible says in Hebrews 11:6 that without faith it is impossible to please God. So there was this woman with great faith who asked Jesus for help. But she was a Canaanite, an outsider. What did He do? During the next WE KIDS, we'll be talking about faith in God, simply believing Him. It's Bible-based, Christ-centered, and kid-friendly radio that's good for the whole family. WE KIDS!
Hebrews 11:1 is this week's Bible verse to remember:

Now faith is being
sure of what we hope for,
and certain of
what we do not see.
And faith is trusting God that His promises are true.. Learn more about this during the next edition of WE KIDS. Here's a quick version of what's coming.
E-couragement from a WE KIDS family of online listeners in Missouri: "Hello Mr. Nick! Thank you for making your radio show! Our family has been enjoying it every weekend for years! Our daughter Beatrice is 5 and would be t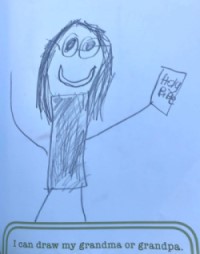 hrilled to hear her name on your program some day. Please send a chronicle with stickers if you can! We are so thankful for your truth filled & gospel centered show! Love, Phil + Katie & Beatrice"
[Hi back to you, Phil, Katie, and Beatrice--and thanks for your kind words. Our WE KIDS goodies are in the mail to y'all in MO, with on-air greets planned for the weekend of February 25. Hugs.]
At home in Red Bluff, Carolyn and I love meeting with grands Mercy and Eden on line Wednesday mornings. We call it CBT, for Cyber BibleTime. This week we talked about Jesus' parable of the seeds and soils. To help the girls remember, they often draw what the Bible says. So Eden came up with a few drawings of sprouts with leaves, then went on to drawing fish (growing little artist) and finally surprised us by dashing out a quick drawing of Grandma Carolyn, Bible included. Growing kids are gifts of God, yes? Thank You again, Lord.

Loving God and kids, the next WE KIDS is ready now. Kids listen and learn!
Mr. Nick
WE KIDS Radio

PS

—

I'm hearing that the next WE KIDS exit-machine will need a strong grip to work.

What do you think it could be?