with some goodies not heard on the radio
March 25 weekend
Listen with this family
If you had a bottle of very expensive perfume, would you use it on someone's feet? Would you pour the whole thing on someone's feet? This really happened. Mary poured a whole bottle of perfume on the feet of Jesus Christ. And then she wiped his feet with her hair. Why? Find out by listening to the next WE KIDS. It's Christ-centered radio that's good for growing kids. WE KIDS!
Ephesians 5:2 is this week's Bible verse to remember:

Walk in love, just as
Christ also loved you,
and gave Himself up for us
an offering and a
sacrifice to God as
a fragrant aroma.
Jesus gave Himself to be punished in our place. What better way to show His love for us? Learn more during the next edition of WE KIDS. Here's a quick version of what's coming.
E-couragement from a WE KIDS grandmom in Wisconsin listening to WRVM: "Thank You! Thank You! Thank You! For We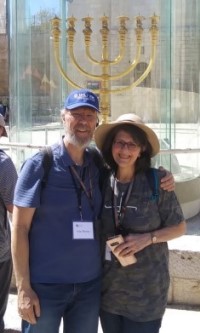 Kids Radio

—

We are so very blessed with this programing, and the Lord's blessing through it... Our prayers to you! Terri" [Terri, God-loving grandmothers like you warm my heart. Keep the eyes of yours fixed on our Lord Jesus Christ.]
At home in Red Bluff, Carolyn and I are sorting through pictures and memories of a recent visit to Israel, the trip of a lifetime. We hiked the streets of Old Jerusalem, floated on the Sea of Galilee, trammed to the top of Masada, kicked the fallen stones of Jericho. And loved the Hebrew people, God's chosen ones who now have their own country (again) to call home. Nearly all of them know about Jesus, our Lord. This is the land where He

—

the greatest Jew ever

—

lived, ministered, and died for us. Thank You again, O Lord. It's wonderful to be seated at Your table.

Here comes the next WE KIDS, Bible-based, Christ-centered, kid-hugging radio. Lend an ear here, young'un. It's great for your heart!
Mr. Nick
WE KIDS Radio

PS—I'm hearing that the next WE KIDS exit-"machine" is big and has floppy ears. What do you think it could be?