Try printing our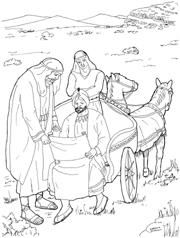 Click here to print all four pages, (300 k) including our artist's (Marjorie Nordwall) drawing of how Philip and the Ethiopian officer of Acts 8 might have appeared.
Acts 10:43 is a good verse to remember. God says:
Of Him (Jesus) all the prophets bear witness
that through His name everyone
who believes in Him receives forgiveness of sins.
Click here for the drawing only. (75 k)
If you don't already have it, you'll need Adobe Reader to read these files. Click here for a free copy. (15 Meg)
If you'd like our WE KIDS Kronicle mailed to you for no charge, just ask.