with some goodies not heard on the radio
June 6 weekend
Listen with this family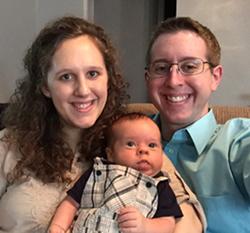 When Tabitha died, many people mourned because she'd been such a good and gracious and generous lady. But she didn't stay dead. How can this be? It has to do with our good and gracious and generous God, the maker and giver of life. And life through Jesus Christ is the message of WE KIDS. It's Christ-centered radio for little people and their families. Listen!
Romans 8:11
is this week's Bible verse to remember:

But if the Spirit of Him Who raised Jesus
from the dead dwells in you,
He Who raised Christ Jesus from the dead
will also give life to your mortal bodies
through His Spirit Who dwells in you.
As the Spirit of God gave life to Jesus, so He gives life to us. Find out more about the Life-Giver during the next edition of WE KIDS. Here's some talk from me about Him.
E-couragement from a faithful listener to WE KIDS on KHCB-FM in Texas: "Grace and Peace to you, your loved ones and the We Kids Family! Just a quick note to say that I have not forgotten about you all... Please know that I continue to pray for you all and trust my Abba Father to meet all your needs as only He can. Your sister servant, with Love, through Yeshua – Jo Anna" [Thank you so much, Jo Anna. I prayed for you today too, gracious lady, and am glad we're working together for Him.]
At home in Red Bluff, a whole evening disappeared this week while I played with (umm, "evaluated") an audio processor for KNKJ-LP. It's a box that makes what's heard on the radio clear and listenable. So I adjusted and listened and fiddled and listened some more. Amazing, it was. The next day I contacted Inovonics, the maker, just to say "nice work" and make sure the software was up to date. The president called back; it turns out that he loves God too and likes to help Christ-centered radio stations. Thank You, Lord God, for putting your people everywhere in this world.

Technical things are the tools used to make each WE KIDS. And yes, it's for kids. And it's great for little hearts (and big). The next program is here.

Mr. Nick
WE KIDS Radio

PS—I'm hearing that the next WE KIDS exit-machine uses water. Lots of it. What do you think it might be?
Like to receive WE KIDS Workings regularly e-mailed to you? Sign up!