with some goodies not heard on the radio
April 29 weekend
Listen with this family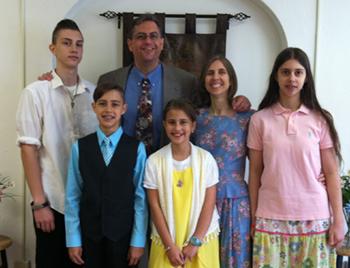 Ready for a riddle? OK--what is it that was broken on a mountain years ago, is still broken today, but still works? (Tough one, eh?) The Ten Commandments. We need to talk about the Ten Commandments, and we're planning to do that during the next WE KIDS. So listen! WE KIDS is faith-building and family-friendly radio for little people.
Exodus 20:12 is this week's Bible verse to remember:
Honor your father and your mother,
that your days may be
prolonged in the land which
the Lord your God gives you.
This command from God is just one of the ten. Hear more about them all during the next WE KIDS. Here's some talk from me about them.
E-couragement from a faithful WE KIDS listener in tune with American Family Radio's KEJA 91.7 FM in Arkansas: "Mr. Nick, I just want to send
you a little contribution to help keep your radio program 'Wee Kids' on the air. I enjoy it myself every Saturday morning, and I am way past being a wee kid--ha. Maybe a wee kid at heart. Sincerely, Scarlett" [Scarlett, kids-at-heart are welcome to listen. Thanks for your kind words.]
At home in Paradise, it's still a little somber here after the passing of long-time friend Norm Gardner. We go back to the late 60's when I was a high-schooler hanging around KEAR-FM in San Francisco and he 15 years older. Little did we know then that God would use us in full-time work for Him for the next five decades. All this time, we've carried the Good News message of new life in Jesus Christ--which reminds us that Norm's now very much alive with our Lord Jesus Christ. Still, he's missed. Thank You, Lord, for your control in all of life as well as death. May we use these short years here to bring glory to You.
There's plenty of life in WE KIDS, of course, with many lively little listeners running around. Ready for the next program? Now!
Mr. Nick
WE KIDS Radio
PS--The next WE KIDS exit-machine, they're saying, has a very fast head-back-on-the-headrest start. Hoo, boy. Don't know if I'm ready for this. What do you think it could be?
Like to receive WE KIDS Workings regularly e-mailed to you? Sign up!