with some goodies not heard on the radio
June 15 weekend
Listen with this family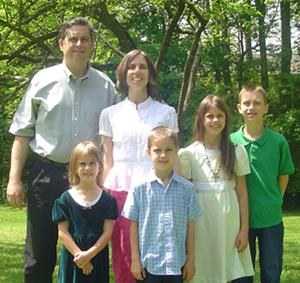 There was once this slinky, sneaky, sly snake who lied. And the first lady of the Garden of Eden believed him. The snake's name was Satan, the lady's name was Eve, and what happened after that is the reason why we're not living happily ever after. But it's no fairy tale. Find out more by listening to the next WE KIDS. It's Bible-based and Christ-centered radio for little people.
James 1:13 is this week's Bible verse to remember:
Let no one say when he is tempted,
"I am being tempted by God,"
for God cannot be tempted by evil
and He, Himself, does not tempt anyone.
If God were tempted by evil, we'd be in real trouble. But He's not--praise Him! He's holy. Set apart. Perfect. Sound too good to be true? Find out more during the next WE KIDS. Here's some talk from me about His goodness.
E-couragement from littles who are loving WE KIDS on line in Michigan: "Hi Mr. Nick. We always look forward to hearing our name on the radio when we listen to WeKids. Could we please have some more stickers? Moses is 13 months old now and says Hi. I learned how to ride my bike without training wheels and I graduated from Kindergarten. God helped me with all that. (Naomi) I love you. (Elijah) Hope all is well with you. God bless you Mr. Nick. Elijah and Naomi and Moses (with a little help from Dad) " [Elijah and Naomi and Moses--you sweet kids! Hugs.]

At home in Red Bluff, the new bicycle is getting some miles under it and scenery around it. Now each weekday it takes me to the post office to bring home mail from happy (mostly) WE KIDS listeners. That means crossing three bridges: one each over the monstrous Sacramento River, the 800-mile interstate 5 freeway, and the East Sand Slough (which is where the Sac River wanders in the winter). This is pretty big stuff for a little town of 14,000 people—and nothing like riding through the mountain trees of Paradise. But it's all an adventure of faith and I'm enjoying it. AND this week I learned the Red Bluff city pool >>> is on the way to the post office. Hmmm...

AND the next WE KIDS is ready for little ears and little hearts. Are you ready for WE KIDS? Listen!
Mr. Nick
WE KIDS Radio

PS—It could be that the next WE KIDS exit-machine moves at warp-speed. But that's impossible! What do you think it could be?
Like to receive WE KIDS Workings regularly e-mailed to you? Sign up!