with some goodies not heard on the radio
October 19 weekend
Listen with this family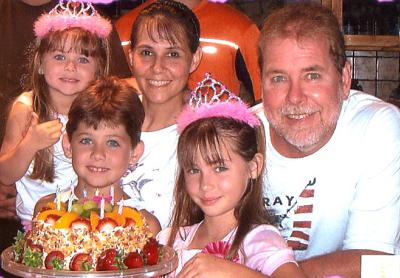 If you were very rich and you lost it all—even your family and your health—what would you think of God? This really happened to a man named Job. Have you heard of him? Mr. Nick will be teaching about him during the next WE KIDS. And all his trouble turns out to be a TEST! (oops...don't want to give it away before the program). Put an ear to the air for Christ-centered and kid-friendly WE KIDS.
Job19:25
is this week's Bible verse to remember:

As for me, I know
that my Redeemer lives,
And at the last
He will take His stand on the earth.
Job knew about His Redeemer--even during bad times--and trusted Him. Do you? Learn more during the next WE KIDS. Here's some talk from me about Him.
E-couragement from a couple of WE KIDS listeners to WRVM-FM in Wisconsin: "Nick--God bless! Pray & Hope things are settling in for you and your family! Barb & Rich" [Thanks, Barb and Rich. Life is lots different after Fire Day; no permanent home yet--but it's getting better. God is good.]


Some kids are thinking about halloween already. No wonder. In America, it's the second-biggest celebration of the year--if flirting with death and darkness counts as a celebration. Now's a good time to plan something different, like a church harvest festival. That's what our church is doing, and where I'll be manning a game booth that evening. Here's more.
At home in Red Bluff, the lights are back on. The power company tells us that for "public safety" they've been turning off the electricity on hot windy days. So Wednesday and Thursday of last week that's what happened. Stores and shops closed their doors--as well as schools and churches. Frozen food thawed in refrigerators. People found themselves just sitting and looking at each other. And when the sun went down, it was dark. Not a happy time--except for my duty to devour four chocolate-covered ice cream bars before they turned into puddles. (Hint: not a good idea to try to handle a mostly-melted ice cream bar by its wooden stick.) But now we're plugged in again. Hoo, boy.

The next WE KIDS (electricity required) is ready and waiting. If you're ready and listening, it's here!

Mr. Nick
WE KIDS Radio

PS—Hints are that the next WE KIDS exit-"machine" has floppy ears and weighs tons. What do you think it could be?
Like to receive WE KIDS Workings regularly e-mailed to you? Sign up!