with some goodies not heard on the radio
April 4 weekend
Listen with this family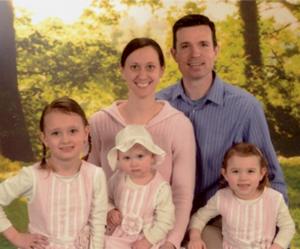 The way for a king to come, of course, is to let everyone know—with trumpets and flags and flowers and maybe even a marching army. ("Did you hear? The king is coming!") When Jesus Christ, the King of Kings, came into Jerusalem, He rode a little donkey. How could this be? Listen to the next WE KIDS and find out. It's great for little hearts, and young-at-hearts too. WE KIDS!
Zechariah 9:9
is this week's Bible verse to remember:

Rejoice greatly, O daughter of Zion!
Shout in triumph, O daughter of Jerusalem!
Behold, your King is coming to you;
He is just, and endowed with salvation,
Humble, and mounted on a donkey,
Even on a colt, the foal of a donkey.
King Jesus is like none other. Hear more about Him during the next edition of WE KIDS.
Here's some
talk
from me about His cloppity-clop ride on
Palm Sunday
.
E-couragement from a grown-up WE KIDS listener in North Carolina: "Hey Mr. Nick! My name's Marie... and I grew up with your radio show. Now I'm a graduate student working on a Masters in Mathematics. I'm hoping that you are doing well in this interesting time in history. Your show was one of my favorite things to listen to, and I still love the music and messages to this day. I do miss the cassette tapes though. Such is the way of progress, yes? God bless you and keep you during this time, and thank you for what you do. Marie" [Your mathematical brainyness, Marie, has left me sinking in a sea of numbers. Still, congrats on calculating your way through East Carolina University. More importantly--hugs! You'll always be one of my WE KIDS-kids.]

At home in Red Bluff, life has a bad case of the stay-at-homes. Still, that's better than catching or passing the cough. Grands Mercy and Eden and I are enjoying Cyber BibleTime on line, though, and bouncing smiles back and forth just for fun. This week we read and talked about Nicodemus in John 3. And Mommy helped us answer his question "How can a man be born when he is old? He cannot enter a second time into his mother's womb and be born, can he?" Moms know these kinds of things. Now we know too. The only way to be born again is with the help of Jesus. (Thanks again, Lord!)

Jesus Christ, of course, is what the next WE KIDS is all about. You're invited to listen. Now, if you want!

Mr. Nick
WE KIDS Radio

PS—I'm hearing that the next WE KIDS exit-machine can also move at the speed of light—and this one comes with a driver. What do you think it could be?
Like to receive WE KIDS Workings regularly e-mailed to you? Sign up!